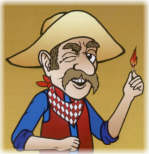 TANDOORI ! :


Try our newest jerky


flavor - now in 8 oz.


economy pak size


along with our other


great Stonewall's


flavors! [Order ]




<!- B l o c k O n e - C ->


BYPASS ....


our general


information pages


and order at our


Virtual Store now.



<!- B l o c k O n e - D ->


SOY ATTACK!:


What's behind


the latest


scare tactics.





Non-GMO


Certification





<!- B l o c k O n e ->


SEARCH text in our


main directory, or


search the contents


of our Virtual Store.





<!- T o p : M a i n C o l u m n ->



"Maker of Specialty Animal Replacement Products"
---- Current Online Specials ----
5 Lb. Special: $5.95!
---
For April (2007), while supplies last :
Our 5-pound Stonewall's Jerquee fines are
just $5.95 each with a 25 pound purchase.
Comes in five 5-pound bags. Order online
(Mild, Wild, Teriyaki & BBQ flavors).
Single 5-pound Stonewall's Jerquee
fines just $9.95 -- this month only . . . Order.
(Again -- Mild, Wild, Teriyaki & BBQ flavors).
Baby Nuggets : $1.49!
---
Also for April (2007),
while supplies last :
Purchase 8 oz. bags of our delicious
Baby Nugget-sized
Stonewall's Jerquee
for just $1.49! . . .
Order online
or call us for details!
(800) 256-2253.
PLEASE VIEW OUR SHIPPING
POLICIES BEFORE ORDERING
<!- leader.gif, height=67, width=356, alt=world leader... ->
Use the links & "Go" pull-down menus below
to get to your desired destination.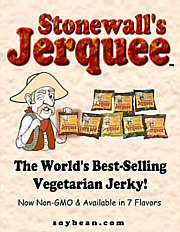 <! - H o m e P a g e ->
FREE WINDOW DISPLAY
:
---

Retailers:
Email
your request for a free 17" x 22"
Stonewall's Jerquee
window display today.
---

Consumers
: If you can't find a Lumen Foods retailer in your area, consult our
wholesaler guide
(also reviewable by
region
).
---

Order Online
if you can't purchase our products from a retailer in your area.
Home Page | FAQ Pages | Our Virtual Store

This site is best viewed at 800 x 600 (or higher)
pixel resolution, 16 bit high color (or better),
using Firefox(1.0 or better).

<!- B e g i n 2 n d R o w ->
<!- P u l l d o w n m e n u s ->

<! - E n d R o w 2 : P u l l D o w n M e n u s ->
409 Scott Street · Lake Charles, Louisiana 70601 - USA
Office: (337) 436-6748 · Fax: (337) 436-1769
Order Line: (800) 256-2253 (in continental U.S.)

---
Email: support@soybean.com · Faxroom: Fax us via internet.
<!- A d d i t i o n a l K e y w o r d s -> <!- ADM, ADM Foods, autolyzed yeast, bologna, beef jerky, Cajun Jerky, cancer, cancers, cartoner, cartoners, Cargill, Cathryn Caton, Greg Caton, Central Soya, cholesterol reduction, copackaging, co-packaging, engineered food, engineered food, extrusion cooking, fiber, food, free, freestuff, free stuff, free food, free products, free health food, free jerky, genistein, genistin, health, health disease, health food, health foods, hormone replacement therapy, Heartline Meatless Meats, imitation beef, imitation chicken, imitation meat, isoflavones, jerky, longevity, meat analog, meat analogs, meat replacement, meatless food, meatless foods, meatless recipes, minerals, nutraceuticals, packaging, pastrami, pepperoni, PMS Foods, prevention, private label, recipes, saponins, snack, snacks, soy, soybean, soybeans, soy chat, soy games, soy protein, Stonewall's Jerquee, teriyaki, teriyaki beef, textured vegetable protein, texturized vegetable protein, TSP, TVP, vegatarian, vegetarian, vegetarians, veggie, vitamins, Wenger, Whole Earth Vegetarian Catalogue, Woodman, Woodman Profitmaker. ->

"Overs & Unders"

"Overs & unders" are retail packages that are above or below the stated net weight - making them unsuitable for retail sale. Get
Stonewall's Jerquee
for just $ .75 a bag (1.5 oz. average) by purchasing our "overs and unders"
by the pound!
[See
Overs & Unders
]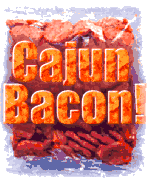 Stonewall's in
8 ounces

All
Stonewall's Jerquee
products are
available in 8 oz. sizes
. . .
---
Check Back Regularly
Specials Change Monthly

---

Check back regularly for great discounts on our "fines" -- the same great products, only in smaller pieces, which we make during our regular production runs. (Note: To add variety to our fines products, each package now contains "Baby Nuggets" along with smaller pieces. Please note that "Baby Nuggets" and "fines" are now one product.)

Like our regular product, "fines" can be eaten "as is," reconstituted for use in soups, casseroles, and other cooked meals, or can be microwaved for quick "hot snack" eating. See
current fine offers and specials
. If you have any questions, please call our home office.