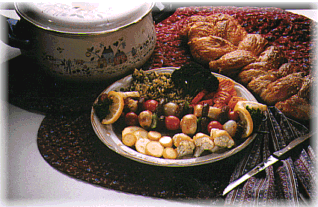 Discounted "Fines"

April, 2007 :
See below for special prices this month on the items below! [See regular
discount bulk section
].

The products below are the very same meatless items found elsewhere in our catalog -- just as wholesome, just as fresh, just as shelf-stable, and for many recipes, just as versatile. The only difference is that they are smaller in size -- what is referred to in the food industry as "fines."


Our fines -- available in Heartline Meatless Meat, Stonewalls Jerquee, and Cajun Jerky variations are ideal for soups, salads, casseroles, and burgers.


However you order, remember to specify flavor and package size.



Availability, Price & Sizing: -- (Updated 12/15/06) -- The prices below reflect a 'blend' with both minced and smaller chunk 'production line' product to insure that there are no supply problems. (You previously had to call in to check on availability - something that is now unnecessary.)

For brevity's sake, note abbreviation's used: Stonewall's for Stonewall's Jerquee and Heartline for Heartline Meatless Meats.


Code
Description
Size
Unit Price
Quantity

Code of
Item

Discounted Fines

Wt. of
Bags

Cost of
this item

Click to
purchase

Special 25-lb. "Fines" Specials for April, 2007
[ Shipments comes in five x 5 lb. bags = just $5.95 per bag!
Or email us at support@soybean.com or call 800-256-2253
to mix-and-match different flavors with your 25 lb. order! ]
<!- B o t t o m L i n k s ->