<!- alternate bgcolor= fee7ed =>


elcome to the home page of Lumen Foods, world class maker of healthy meat & dairy replacement products, institutional meal systems, and long-term storable foods. This site contains the Web version of our popular Whole Earth Vegetarian Catalogue, along with plenty of information on our work in soy protein, as well as our work in the disaster relief community. To find a retailer in your area be sure to call your nearest health foods wholesaler.



We hope you enjoy your visit. Feel free to email us anytime; we read and respond to every letter with 24 hours. And thanks for visiting...
<!- alternate bg: ffeddb ->

Recently we have, once again, had to confront onslaught of more outrageous claims about soy. I first took some of these unfounded ideas to task in The Lumen Book (1986), but the newest accusations, flying in the face of the Food & Drug Administration's positive findings on soyfoods, deserve our attention. This month's article is entitled Assault on Soy, 2000. Also this month, we've updated our page detailing Dr. Sears' work, as some felt that there was strong debuttal material on the web that we had not included. Our arguments concerning the benefits of replacing animal protein with vegetable proteins fit into either camp, but those who are interested will find the additional links a more balanced read. As always, please email us with comments.


<!- www.ArtReality.com linked by following image: www.soybean.com/images/coolawar.gif" border=0 height=118 width=119 ->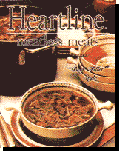 Health Food Retailers: Find the Lumen Foods' retailer in your area by consulting our nationwide list of wholesale distributors, either alphabetically or by region.



Mail Order Customers: Try our generous Introductory Pak for only $19.95. New nutritional findings on soy protein: read the complete update by world-renowned phytopharmacologist Dr. Suzanne Paxton, as announced in Time Magazine...



Web Address:

s o y b e a n . c o m
© 1995-2002 Lumen Foods, a div. of Herbologics, Ltd. All rights reserved. Heartline, Cajun Jerky, Stonewall's Jerquee and The Whole Earth Vegetarian Catalogue are trademarks of Herbologics, Ltd. All food photography property of Lumen Foods.

"Lumen Foods' (Soybean.Com) Theme Song"
© 1997-99 Hitoshi Oyamada. Composition and orchestration by Hitoshi Oyamada. Used by permission of the artist. All rights reserved. All other MIDI compositions on the Lumen Foods' web site are legally copyrighted and rights remain with the respective artists. If you have any questions, please email.



Whole Earth Vegetarian Catalog

Email

Top of Page
Opening Index Page

Awards