Natura Scio has its own lab to provide micro figures on the Certificate of Analysis of each batch of product. The usual analysis is conducted (Ecoli, colliform, mold and yeast, and total plate count), in addition to whatever other micro tests our customer may request at the time of purchase. In addition,
Natura Scio
has set up an overnight service arrangement (with total QC turnaround still lasting the usual 5 days), with
Medallion Labs
in Minneapolis. On July 1st (2003), we sent them a sample of
GP-150
(approximately 45 days old) as a test.
Here were the results
. (The lab is essentially complete, with only a
Parker Scientific
hood left to install (to be finished by close of business day, 7/3/03). The micro test materials are made by 3-M, and all micro tests are standard in the industry.)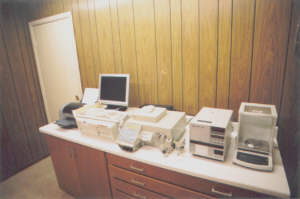 Chemical Analysis: HPLC Station

The specific carboxyls that Natura Scio uses -- compounds that comprise the active components of our products -- can be tested using a single HPLC column. An excess or insufficient amount of any specific compound (which will vary with each formula) tells us that there is something wrong with a particular batch. Since we realize that our customers will often dilute our products to meet their specific objectives, it is all the more important to provide assurances -- both to ourselves and to our customers, as required -- that each batch has the exact amount of each component necessary for the product, as a whole, to do its job. Every time. With every batch.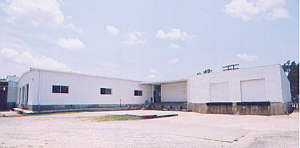 Production Area -- (Exterior)

Extensive improvements have been made to both the interior and exterior of the production facility. Although only 12,000 of 28,000 total square feet has been upgraded, it is already sufficient to accommodate over 500,000 pounds in weekly production -- over 40 tankers per month. With slight modifications to the plant, this capability can be doubled. (See also
altered view of exterior
;
building entrance
;
new east bay doors from interior
;
view from street frontage
).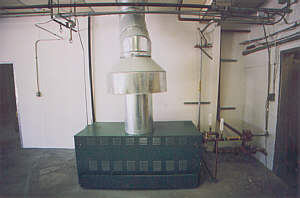 Boiler: Over 1M BTU

The company's main boiler, new and just recently installed, can produce enough hot water to keep up with a 3,000,000 pound per week production schedule -- considerably more than the rest of operation can now accommodate.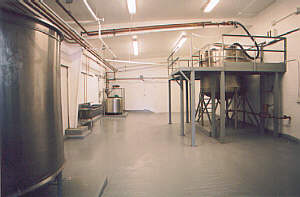 Main Production Room

The main production room involves the interaction of three tanks -- two with agitators, with a third one a "feeder tank." There are backup provisions for all motors and blades. All pumps and water lines are made or are suitable for food-grade applications and meet the highest GMP standards. Since no raw materials or finished product is stored in this room, it is -- even at a thousand square feet -- more than sufficient in size. (See
close-up of main production tank
(1,100 gallon -- where each 60 minute "turn" produces 10,000 lb. output).)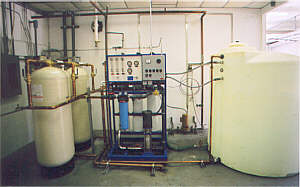 Water Purification System

Chemical analysis of the Lake Charles municipal water, drawn from the Chico aquifer, showed a product which, except for chlorine residuals, was quite pure by city water standards. Nonetheless, an industrial 22,000 GPD reverse osmosis and activated carbon filter system was built at the production facility. The system is brand new, fully tested, and personnel have been fully trained in operation and preventative maintenance. The primary vendor is in Houston -- just over a two hour drive. (See
close-up of activated carbon filter vessels
;
close-up of reserve osmosis system
).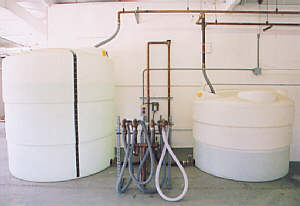 Filling Station for Totes & Barrels

The picture at right shows the area set aside for the filling of barrels and totes with finished product. It is fully operational and allows for four separate filling activities to run concurrent. The picture just below it shows the side view where the first and second of what will be four fully operational holdings tanks -- 2,500 gallons each -- that will be in place by July 8th.

Cellulose Tank
: The picture below shows up a close-up of the methylcellulose and clean-up area.