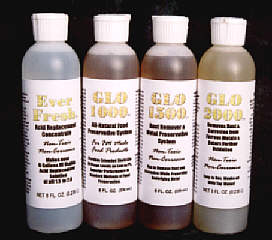 atura Scio
makes economical, ecologically sound preservatives that run the gamut from
food and beverage
to
commercial lumber
to
industrial metal coating applications
. The properties of our proprietary products take the preservation additive business to an entirely new level, as disclosed in the pages on this site.

The picture above represents our initial product line (in sample, demonstration bottles) -- each providing unique properties not currently available using orthodox methodologies. Moreover, each product is priced to provide a cost effective solution that is comparable or less than other state-of-the-art preservation techniques now used in each of the applications listed herein.

Use the drop-down menus above to view our products, by product description or application. If you have any questions, please
email us
with your specific quer(ies).